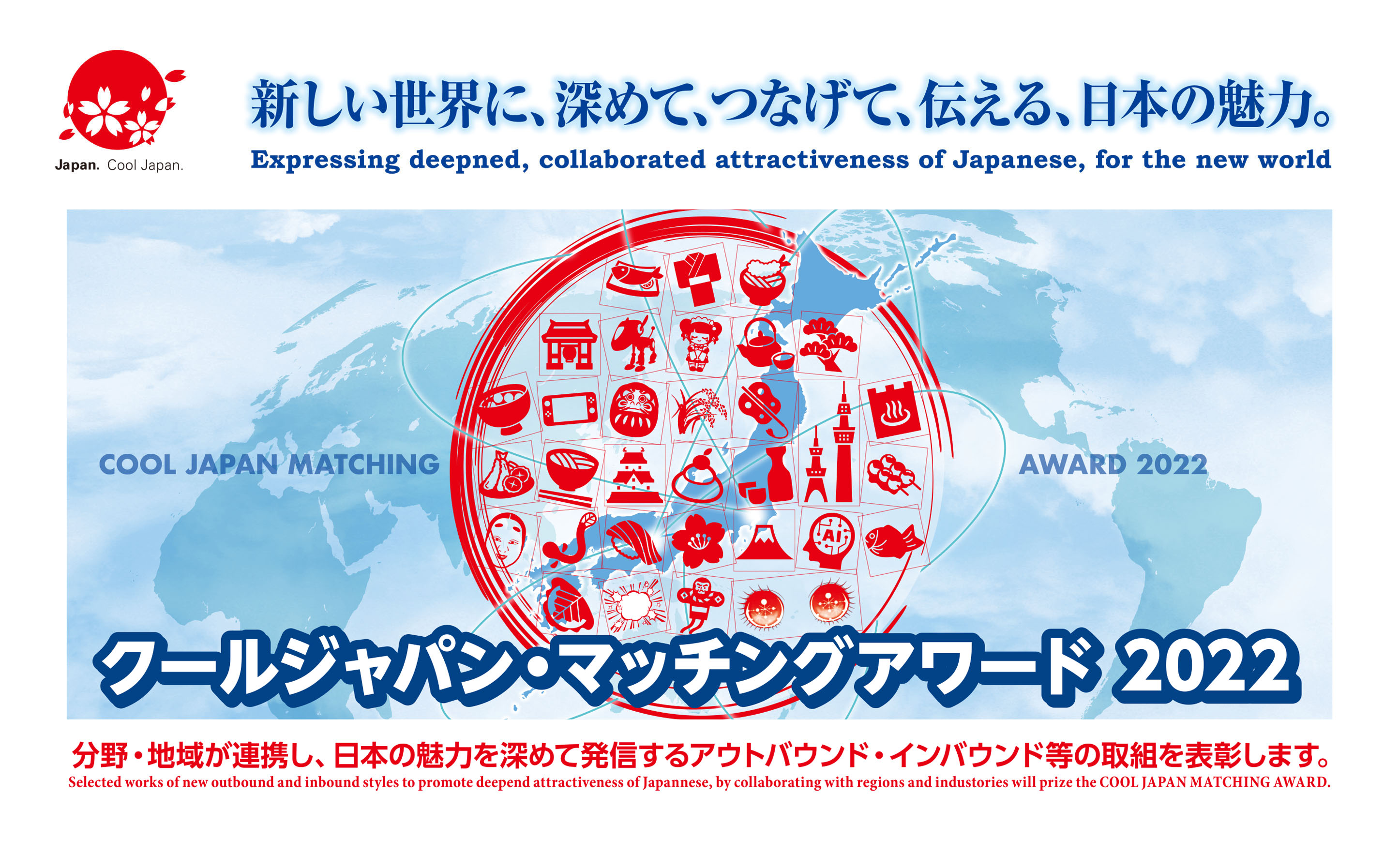 アワード候補募集期間:令和4年2月15日(火)~令和4年3月8日(火)
Award Candidate Application Period: Tuesday, February 15 – Tuesday, March 8, 2022
アワード受賞発表・表彰式:令和4年6月(予定)
Award Recipient Announcement and Award Ceremony: June 2022 (tent.)
開催趣旨

Intent behind Awards

新しいスタイルが広がる世界に向けて、食やコンテンツ、ものづくりや伝統文化などの日本の魅力のさらなる展開が求められています。「クールジャパン戦略」は、日本の魅力を掘り下げ、幅広い分野や地域が連携する取組の世界展開を支援しています。※
クールジャパン・マッチングアワード2022は、先進的なクールジャパンの取組を募集し、表彰します。これにより、新しい世界に向けたクールジャパンの取組の知恵や実績を結集・共有し、連携の拡大の機会となることを期待します。


With new styles spreading around the world, further efforts to spread the appeal of Japanese culture, from food and content to manufacturing and traditional culture, are needed. The "Cool Japan strategy" supports the global spreading of initiatives based on partnerships between a wide range of sectors and regions that serve to delve into the charm of Japan.*
With the Cool Japan Matching Award 2022, leading Cool Japan initiatives are sought for recognition with an award. Expectations are that this will serve as an opportunity to bring together and share wisdom regarding and results produced by Cool Japan initiatives aimed at a new world and expand partnerships in the process.
アワード
候補募集

Award Candidate Applications

食やコンテンツ、ものづくりや伝統文化などの幅広い分野や、地域内・地域間・海外と連携し、日本の魅力を掘り下げ、世界に展開する、新しいスタイルのアウトバウンド・インバウンド等の取組を募集。※
その中から、グランプリ等のアワード受賞の取組を選考し、表彰します。

※応募の取組の一部を例として公開予定。

Applications for initiatives for a wide range of categories such as food, content, manufacturing and traditional culture as well as initiatives for new styles of outbound or inbound based on intra-regional/inter-regional/cross-border partnerships that delve into the appeal of Japan and spread it to the rest of the world are sought.
Initiatives will be selected out of those submitted to receive the Grand Prize or another award.

*Some entries are scheduled to be publicly released as sample initiatives.
クールジャパン・マッチングアワード2022
Cool Japan Matching Award 2022
応募事例のご紹介
Introduction to Sample Entries
募集期間は終了しました。多数のご応募をいただき、誠にありがとうございます。
受賞者発表に先立ち、ご応募いただいた取組の中からいくつかの事例をご紹介いたします。
The entry acceptance period has concluded. Thank you very much for your numerous submissions.
Before we announce the award winners, we will take the liberty of introducing several sample initiatives out of those that were submitted.
クールジャパン・マッチングアワード2022
アワード候補募集要項
分野・地域が連携し、日本の魅力を深めて発信するアトバウンド・インバウンド等の取組を募集、表彰します。
Call for works of new outbound and inbound styles to promote deepend attractiveness of Japannese, by collaborating with regions and industories. Selected works will prize the COOL JAPAN MATCHING AWARD.
募集するクールジャパンの先進的取組
Applications Sought for the Following Leading Cool Japan Initiatives
●
日本の魅力を掘り下げて、海外に伝え、「共感」を得る取組
●
分野間、地域内、地域間、海外等との連携を進める取組
●
新しいスタイルのアウトバウンド・インバウンドの実績がある、または可能性がある取組
●
Initiatives that delve into the charm of Japan, convey that charm to people overseas, and elicit "resonance" with Japan.
●
Initiatives that pursue partnerships between sectors, within and between regions, and with overseas and other parties.
●
Initiatives with a proven record of generating new styles of inbound or outbound tourism or with the potential to do so
応募期間
令和4年2月15日(火)~3月8日(火)
Award Recipient Announcement and Award Ceremony: June 2022 (tent.)
応募の条件
Entry Conditions
●
取組の対象は、製品、イベント、サービス、コンテンツ、その他、いずれも可能
●
取組の応募者は、国内外の個人・企業・団体・行政機関、いずれも可能
●
過去にクールジャパン・マッチングアワードの受賞歴がない取組
●
Initiatives can target products, events, services, content, etc.
●
Initiative entrants can be individuals, companies, organizations or administrative bodies located in Japan or overseas.
●
Initiatives that have no record of winning the Cool Japan Matching Award in the past.
応募方法
Entry Method
応募フォームに必要事項を記入、必要な資料を添付して応募いただきます。
Entries are accepted on the application website: Entrants can enter by filling out the required items on the entry form and attaching the required documents.
アワードの選考・審査・表彰
Award Selection, Screening and Conferment Process
応募された取組の中から、「クールジャパン戦略」が目標とする、分野・地域の連携、日本の魅力の深化、発信において、優れた取組を選考、表彰します。選考はクールジャパン官民連携プラットフォームのアドバイザリーボードメンバーを含む有識者や日本の魅力に理解が深い外国人等からなる審査員が行います。
賞は、グランプリ(1件程度)、準グランプリ(1~2件程度)、その他の賞を予定。6月に開催予定の表彰式にて、受賞の取組の発表、贈賞を行います。
Out of the initiatives submitted as entries, those that excel in the areas of sectoral/regional partnerships and the deepening and communication of the charm of Japan, which constitutes the goal of the "Cool Japan strategy," will be selected and recognized with an award. The selection process will be conducted by a panel that includes The Cool Japan Public-Private Partnership Platform Advisory Board Members and other experts as well as non-Japanese individuals with a deep understanding of the charm of Japanese culture. Scheduled awards include a Grand Prize (for around one initiative) and a Runner-Up Prize (for around one to two initiatives), among others. At an award ceremony scheduled to be held in June, award-wining initiatives will be announced and presented with their award.
アワード候補募集期間:令和4年2月15日(火)~令和4年3月8日(火)
Award Candidate Application Period: Tuesday, February 15 – Tuesday, March 8, 2022
◆ 主 催:クールジャパン官民連携プラットフォーム
Organizer: The Cool Japan Public-Private Partnership Platform
◆ 後 援:クールジャパン機構/日本貿易振興機構(JETRO)/日本商工会議所/東京商工会議所/映像産業振興機構(VIPO)
Support: Cool Japan Fund Inc. / Japan External Trade Organization(JETRO) / The Japan Chamber of Commerce and Industry / The Tokyo Chamber of Commerce and Industry / Visual Industry Promotion Organization(VIPO)
◆ 事務局:内閣府知的財産戦略推進事務局
Secretariat: Cabinet Office Intellectual Property Strategy Headquarters